« Who's The Top Pick In The MLB Draft? | RCS Blog Home Page | What To Watch: Friday »
June 05, 2008
by Robbie Gillies
The two most storied franchises in NBA history are squaring off in the NBA Finals yet again. The Celtics and Lakers will have accounted for exactly half of the NBA Championships once one of these two teams is crowned. There has been so much talk about the history of these two franchises and the amazing talent that has dawned the purple & gold and green & white jerseys. I decided to take a stab at creating the ultimate Lakers and Celtics rosters.

Of course, they will contain some of the all-time greats, but in order for these to be true teams, they will need a few roll-playing players coming off the bench. The team's are based on the players performances with their specific teams, and don't factor in career performance. All years and stats are with the specific teams.



PG - Earvin "Magic" Johnson
HEIGHT - 6'9
YEARS - 1979-1996
STATS - 19.5 ppg, 7.2 rpg, 11.2 apg
Magic is probably the best point guard of all-time and led the "Showtime" Lakers. He was a 3-time MVP and creates big defensive problems with his height.





SG - Kobe Bryant
HEIGHT - 6'6
YEARS -1996-present
STATS - 24.6 ppg, 5.2 rpg, 4.5 apg
It was a tough call between Kobe Bryant and the NBA logo, Jerry West. But, Bryant has now done something West never did; win an MVP.





SF - Elgin Baylor
HEIGHT - 6'5
YEARS - 1958-1972
STATS - 27.4 ppg, 13.5 rpg, 4.3 apg
Elgin Baylor was the original Charles Barkley. At just 6'5 he is the Lakers franchise leader in rebounds. He also holds the record for scoring 61 points in an NBA Finals game.





PF - James Worthy
HEIGHT - 6'9
YEARS - 1982-1994
STATS - 17.6 ppg, 5.1 rpg, 3.0 apg
Worthy is the ultimate compliment to the other high-scorers on this list. He never needed a certain amount of shots and would do what was needed of him as his triple-double in game 7 of the 1988 NBA Finals proves.





C - Kareem Abdul-Jabbar
HEIGHT - 7'2
YEARS - 1975-1989
STATS - 22.1 ppg, 9.4 rpg, 3.1 apg
Kareem just edged out Shaq as the starter. But, how can you not start someone who ranks first in scoring, fourth in rebounds, third in blocks, and shot 56% from the free throw line as opposed to Shaq's 52%.




OFF THE BENCH

SG - Jerry West – Guard
HEIGHT - 6'2
YEARS - 1960-1974
STATS - 27.0 ppg, 5.8 rpg, 6.7 apg
Not too bad when you have the franchise leader in points scored coming off your bench.





C - Shaquille O'Neal – Center
HEIGHT - 7'1
YEARS - 1996-2004
STATS - 27.0 ppg, 11.9 rpg, 3.1 apg
Shaq would be a good change of tempo from Kareem. Shaq can bang with the best of them and comes up big in the clutch as is proof of being a 3-time Finals MVP.





C - Wilt Chamberlain – Center
HEIGHT - 7'1
YEARS - 1968-1973
-17.7 ppg, 19.2 rpg, 11.2 apg
He only played five years with the Lakers and this was not the Wilt Chamberlain who scored 100 points with the Philadelphia Warriors in 1962. But, he was a key part of the '71-'72 Lakers that won 33 consecutive games.





PG - Derek Fisher – Point Guard
HEIGHT - 6'1
YEARS - 1996-2004, 2007-present
STATS - 8.0 ppg, 2.0 rpg, 3 apg
And now we get to a definite role player. Fisher would be a great back-up point guard who definitely comes up big in the playoffs. He's shooting 56% from 3-point range this postseason and is a career 44% 3-point shooter in the playoffs.





C - George Mikan – Center
HEIGHT - 6'10
YEARS - 1948-1956 (includes 1 year of BBA)
STATS - 23.1 ppg, 13.4 rpg, 2.8 apg
Mikan re-defined the game of basketball. At 6'10 he dominated the NBA and led the league in scoring in four seasons. The Lakers depth at the Center position shows when Mikan, named to the NBA's 50 Greatest Players is riding towards the end of the pine.





F - Robert Horry
HEIGHT - 6'9
YEARS - 1996-2003
STATS - 6.3 ppg, 4.3 rpg, 2.2 apg
Robert Horry's numbers are paltry compared to everyone else on this list, but if you need someone to kick it out to for a game-winning three, is there anyone you'd rather have than Robert Horry?





F – Bob McAdoo
HEIGHT - 6'9
YEARS - 1982-1985
STATS - 12 ppg, 4.4 rpg, 1.0 apg
McAdoo makes the list because the Lakers need another forward coming off the bench and also for rivalry purposes. He is the only player on the list to play for both franchises. McAdoo was traded to Boston from New York midway through the '78-'79 season. The Celtics owner, John Brown made the trade without notifying GM Red Auerbach or player-coach Dave Cowens. This caused major problems since McAdoo played the same position as Cowens. McAdoo was traded at the end of the season and two years later wound up in LA when the Lakers scrambled to replace an injured Mitch Kupchak. McAdoo would help the Lakers beat the Celtics in the 1985 NBA Finals.




PG - Bob Cousy
HEIGHT - 6'1
YEARS - 1950-1963
STATS - 18.5 ppg, 5.2 rpg, 7.6 apg
Cousy led Auerbach's high-powered offense and led the league in assists in eight straight seasons (1952-1960). He also won six Championships.

SG - John Havlicek
HEIGHT - 6'5
YEARS - 1962-1978
STATS - 20.8 ppg, 6.3 rpg, 4.8 apg
Havlicek was a great defender and Auerbach called him "the guts of the team". He was a 13-time All-Star and named to the NBA's 50 Greatest Players.





SF - Larry Bird
HEIGHT - 6'9
YEARS - 1979-1992
STATS - 24.3 ppg, 10 rpg, 6.3 apg
What would this matchup be without Magic vs. Bird? Bird won three consecutive MVP's from 1984-1986 and was on the All-NBA First Team 9 times.





PF - Kevin McHale
HEIGHT - 6'10
YEARS - 1980-1993
STATS - 17.9 ppg, 7.3 rpg, 1.7 apg
McHale gets the start because of his defensive intensity. He was on the All-Defensive Team three straight years (1985-1988).





C - Bill Russell
HEIGHT - 6'10
YEARS - 1956-1969
STATS - 15.1 ppg, 22.1 rpg, 4.3 apg
No one has won more Championships than Bill Russell who won 11 of them. He was also a 5-time NBA MVP and was in the top four in rebounding in every year of his career.




OFF THE BENCH

F - Paul Pierce
HEIGHT - 6'7
YEARS - 1998-present
STATS - 23.1 ppg, 6.4 rpg, 3.9 apg
In time, Paul Pierce will be known as one of the Celtics all-time greats. Right now, I think he is overlooked, but he has been the face of that franchise for the past decade and is a 6-time All-Star.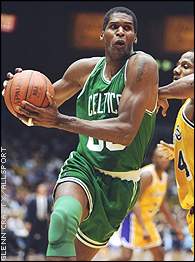 C - Robert Parish
HEIGHT - 7'0
YEARS - 1980-1994
STATS - 16.5 ppg, 10.0 rpg, 1.5 apg
Parish was known for his outside shot before the likes of Rasheed Wallace and Mehmet Okur. He was also extremely quick for his size and could finish in transition. Of course, many people might not remember his speed and quickness since he played well past his prime.





G - Sam Jones
HEIGHT - 6'4
YEARS - 1957-1968 (whole career)
STATS - 17.7 ppg, 4.9 rpg, 2.5 apg
Before there was Big Shot Bob there was Mr. Clutch. Sam Jones anchored 10 NBA Championships with the Celtics with a little help from Bill Russell.





G – Jo Jo White
HEIGHT - 6'3
YEARS - 1969-1979
STATS - 18.4 ppg, 4.3 rpg, 5.1 apg
White's first season was right after Bill Russell retired and the Celtics began to rebuild. He would be the anchor of those teams and started in all 82 regular season games in his first five seasons. White was known for his defense and team leadership and would be of great help off the bench.





C - Kevin Garnett
HEIGHT - 6'11
YEARS - 2007-present
STATS - 18.8 ppg, 9.2 rpg, 3.4 apg
Yes, Garnett has only been a Celtic for one season, but he is the main factor in the biggest turnaround in NBA history. Garnett led the Celtics to a franchise record 66 wins this season and has been a perennial member of the All-Defensive Team.





F - Dave Cowens
HEIGHT - 6'9
YEARS - 1970-1980
STATS - 18.2 ppg, 14.0 rpg, 3.9 apg
Cowens did a little bit of everything. He was a seven time All-Star and led the team in points, assists, rebounds, and blocks in the 1977-78 season.





G - Dana Barros
HEIGHT - 5'11
YEARS - 1996-2000
STATS - 10.1 ppg, 2.0 rpg, 3.3 apg
Alright, now it's getting a little ridiculous, right? Dana Barros? But, he is the Celtics all-time leader in three-point shooting percentage. He shot 40% during his five year span with the Celtics. Could be a good substitution at the end of the game.