« A Post About Steve Tasker NOT Related To Leon Lett | RCS Blog Home Page | What To Watch: Weekend Edition »
June 27, 2008
by Robbie Gillies
Third-seeded Maria Sharapova was ousted from Wimbledon by 154th ranked Alla Kudryavtseva. Sharapova lost in straight sets 6-2 and 6-4. What caused her poor play? Perhaps a fashion faux-pa. Sharapova was "inspired" by menswear this season and dawned shorts instead of the traditional skirt.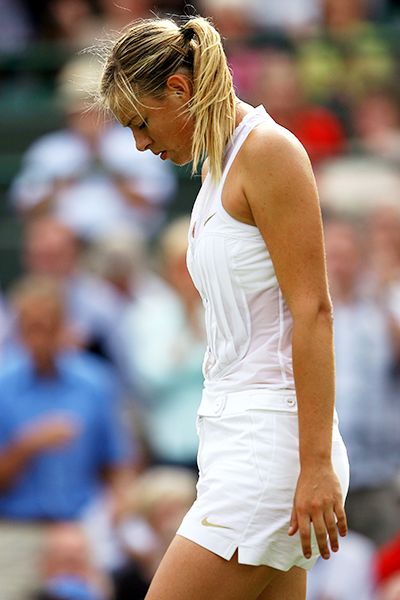 But it's not that Sharapova's play necessarily suffered from the clothing. No, it was motivation for her opponent. After the match Kudryavtseva said:
It's very pleasant to beat Maria. Why? Well I don't like her outfit. That was one of my motivations...It's a little too much of everything. I'm not very good in fashion. She experiments and I give her credit for that. Sometimes she has good ones, sometimes not.
Kudryavtseva was joking, but I bet you don't see Sharapova in shorts next time out.