« Chase Utley Does Not Appreciate Your Booing | RCS Blog Home Page | Dilfer Ditches NFL Network For ESPN »
July 15, 2008
by Robbie Gillies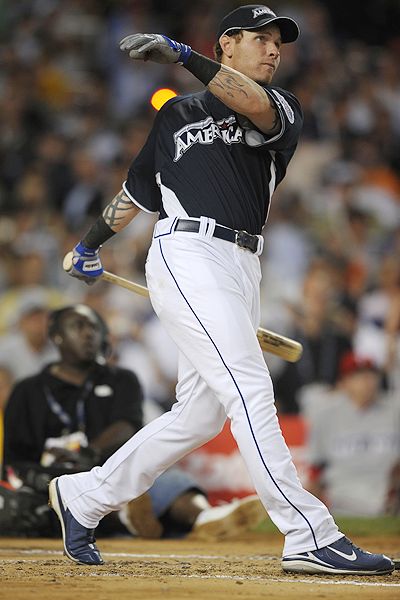 Josh Hamilton blew away the competition in the State Farm Home Run Derby last night. He hit a record 28 home runs in the first round. These home runs weren't just barely over the fence either. He destroyed the ball with an average distance of 445 feet per homer including an estimated 518 foot blast. His 28 homers were just one less than the next four highest totals combined. But, despite this unreal achievement, Hamilton lost the competition to Justin Morneau in the finals. After the first two rounds, the scores are cleared and the top two contestants go head-to-head. Morneau hit 5 homers to Hamilton's 3 to win the title.

Some might call for the rules of the competition to be changed because clearly Hamilton was the best home run hitter last night. But, the Home Run Derby is simply a spectacle. The actual crowning of the champion means nothing. The winner gets a trophy and gets to donate more money to charity than the other competitors. Morneau might have technically won, but Hamilton is the big winner.

Last night Hamilton introduced himself to the casual sports fan. Baseball fans have known about Josh Hamilton all year. He leads the league in RBI's (94) and has been among the top in home runs and batting average all season long. But, last night's show, elevated his star status more than everything he did in the first half of the season. It's just another chapter in the unbelievable life of Josh Hamilton. He went from signing a $4 million signing bonus with the Devil Rays to being suspended multiple times for substance abuse to now being one of the best hitters in the game. Hamilton is making the most of his second chance and those who watched last night's Home Run Derby are grateful for that.