« Running Of The Bulls Begins | RCS Blog Home Page | What To Watch: Monday »
July 07, 2008
by Ryan Hudson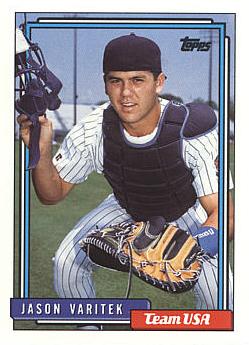 Yesterday, the
2008 MLB All-Star game rosters
were announced, and Jason Varitek, Red Sox catcher, made the AL squad. But, how?
Now, Varitek is a very good catcher. Obviously intangibles are tough to measure, but he leads that Red Sox pitching staff, and has for almost 10 seasons now -- there's a reason he's the captain of the team. He's also caught four no-hitters, a MLB-record. All great stuff.
But.
He's hitting just .218 and slugging only .360 this season. He has more strikeouts (70) than hits (53), and is currently in one of the worst slumps of his career: just 12 hits in his past 92 at-bats (.130). As Vegas Watch points out, of the 20 AL catchers with 150+ plate appearances, he ranks 17th with a -2.3 VORP.
With numbers like that, how exactly did he make the squad? That's where those intangibles come into play, and he was voted in to the All-Star Game by other MLB players.
"There's a level of (embarrassment), but this was a player vote, so there's a level of appreciation, too," Varitek said. "It's still an honor."
It might be an honor, but Varitek may have just cemented himself as one of the worst All-Star selections ever.