« What To Watch: Wednesday | RCS Blog Home Page | The Times, They Are A Changing »
July 09, 2008
by Robbie Gillies
I was disappointed when I found out the Giants had released comically-large QB Jared Lorenzen. Typically, there's pitcher David Wells to fill the fat-guy role, but he's not on a roster either. It was looking bad for overweight athletes until I read this:

Robert "Tractor" Traylor will rejoin the Cavaliers -- for the summer at least. Traylor last played for the Cavaliers in 2005 and is one of the few veterans on the roster.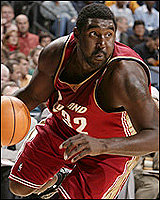 The Tractor is listed at 289 lbs. Not quite as hilarious as Jared Lorenzen, but with a strict diet of cookie dough straight from the tube dipped in bacon grease, he could at least pass Glen "Big Baby" Davis.