« Phil Hellmuth Knows How To Make an Entrance | RCS Blog Home Page | What To Watch: Wednesday »
July 08, 2008
by Ryan Hudson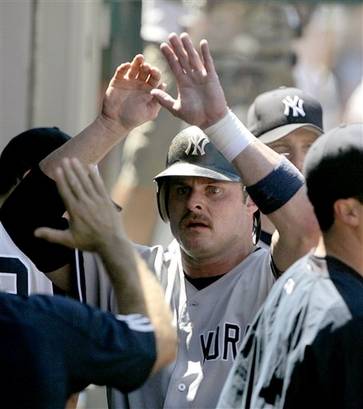 The ballot-box for the Monster
2008 All-Star Game Final Vote
, which decides the final all-star for each squad, officially comes to close on Thursday, at 5 PM, and things are beginning to heat up.
Jason Giambi may have just surged into the lead with his latest supporter, the American Mustache Institute. From the official AMI site (yes, they have one):
[I]t does not take a mathematician to know that Giambi + Mustache = All-Star. It's science.

AMI has provided the following statement to the New York Yankees in support of Giambi's candidacy for the 2008 American League All-Star team:

"The only choice for the final roster spot on the 2008 American League All-Star Team is Jason Giambi. He not only represents the great Yankees dynasty previously led by the likes of Reggie Jackson – the father of the mustache in modern-day baseball – but Giambi represents the hopes and dreams of the previously downtrodden mustached American, a breed that was on the U.S. Endangered Species list as recently as 2005. Clearly, the voting public must takes into account Giambi's powerful lip fur, as it signifies great intellect, good looks, and the ability to stare down the most powerful of martial arts gurus. And while none of that may matter on the baseball diamond, it's the most compelling reason offered for All-Star status in the history of the game."
Amazingly, the
Yankees have released a statement of their own
:
The New York Yankees are urging fans to "Support the 'Stache" and vote for first baseman Jason Giambi on Major League Baseball's Final All-Star Ballot.
If this All-Star Game thing doesn't pan-out for Giambi, he can always go and
play baseball in Japan
.
(H/T: AOL Fanhouse)