« Suggestions For NFL Fans Buying Billboards | RCS Blog Home Page | Guide to the Olympics: August 21 »
August 21, 2008
by Robbie Gillies
Between two-a-days and countless hours in meetings and the film room, training camp can be brutal. It can be especially tough on rookies who are new to the system, trying to learn all they can, and hoping to make an impression on the coaches. So, when a rookie gets injured, while disappointing, it could make camp a little easier. It might mean less physical strain but, in the case of the Titans, it means worse rookie hazing.

The Titans have a tradition of having their rookies compete in a dizzy bat competition. The rookies sprint, pick up the bat and with their forehead on the bottom, they spin around, then sprint back. If you've never seen this done before, you're missing out. It's nearly impossible to remain standing, especially when attempting to sprint. But this year, two Titans were injured and unable to compete. Obviously they weren't going to get off that easily.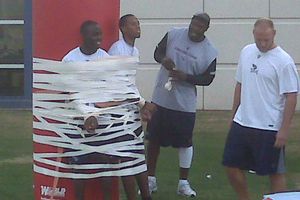 Lavelle Hawkins (ankle) and Cary Williams (quad) "were taped to a pole, then showered with everything the trio of veterans could find from the cafeteria."

"We were trying to make a cake," Keith Bullock said. "Albert [Haynesworth] added the flour and the water. We didn't have any eggs, but you can make a cake without any eggs. We added the honey and the chocolate syrup. Then Albert came out of left field with the ketchup and the mustard and the mayonnaise. He's a bigger guy so he's a different type of eater. He might like that on his cake."

Hey, if Chris Cooley enjoys peanut butter, ham, and mustard sandwiches, anything is possible.