August 26, 2009 4:59 AM
In my bio, I said that I am generally a positive and enthusiastic analyst and observer of Philadelphia sports. However, if I failed to mention it in the bio, I would also like to say that even though I am from Philadelphia and work in the Philadelphia sports market, I will try to be unbiased and present a verdict based on the facts rather than personal emotion.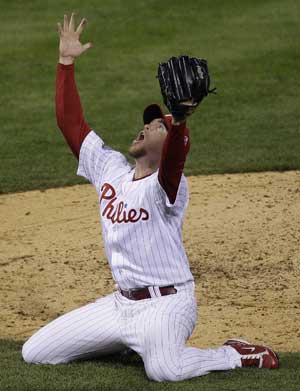 So let's talk about tonight's lose to the Pirates:

Emotionally, I desperately want to be loyal to Brad Lidge. The same man who feel to his knees after striking out Eric Hinske to win the World Series. He had a completely, utterly, flawlessly, perfect season and I will always remember that.

I will also remember that was in 2008.

This is 2009.

Lidge just blew his 9th save, is 0-6, and has a 7.33 ERA. All of my posts thus far have raved about how the Phillies are "clicking on all cylinders," but there is one major cylinder that I was hoping we wouldn't have to discuss and that is Lidge's inability to get the job done on a consistent basis.

I thought the unassisted triple play would be a message from God that Lidge's (A very religious man by the way) fortunes would be changing. But after Andrew McCutchen hits a 2 run home run in the 9th for a Pirates walk off win...Charlie Manuel has to honestly evaluate the closers role on the 2009 Philadelphia Phillies team...leaving 2008 in the past.

Here are some thoughts:

Brett Myers? Possibly, but he is coming off of injury and has a black eye from falling out of a car or something along those lines...I don't read the tabloids. He obviously loves the closers role but do you trust him more than Lidge?

Pedro Martinez? He winked when asked about being a possible closer for the ball club once he was signed and there are incentives in his contract for success as a reliever. Isn't he more valuable as a starter than a reliever?

Ryan Madson or another arm out of the bullpen? They did not have particular success when Lidge was on the DL earlier this season and they all have well defined roles already so do you want to make guys readjust in late August...I would not think so but I wouldn't mind guys getting a shot.

Whatever the decision is, even if it is living and dieing with Brad Lidge as the closer, the Phillies have to figure it out now. The post season is not for experimentation and you don't want any player on the playoff roster to have a question to what is their role on this team.

Personally, I say sit Lidge for a few games and let Madson and Durbin have a shot at it to see how that works. If they really want Martinez to have a shot, then bring Moyer back into the rotation, especially after he only gave up 2 hits in 6 innings his last outing for his team leading 11th win. After some experimentation though, I ultimately would not be surprised to hear "This is for the Soldiers" and watch number 54 run out of the bullpen in the 9th.

Lidge is with this team for 2 more years I think, and I just hope he can bounce back from this season and be productive in the future. He does have a history of alternating good and bad seasons...look it up. I'm trying not be emotionally involved and I think the fans need a little time to cool off and before you know it, they'll all be screaming "Lights out Lidge" once again (although calling him a dimmer is pretty funny).