September 14, 2009 5:08 AM
A big win by the Eagles, 2 wins by the Phillies in a day-night double header against the Mets, and a sunny 80 degree day...perfection in Philadelphia on September 13th.

Bravo and congratulations to Sean McDermott: an extremely kind, qualified, and gracious successor to Jim Johnson who had to LOVE what his defense did today forcing 7 turnovers and scoring a touchdown.

TE Brent Celek and FB Leonard Weaver both will be welcomed starters and could DeSean Jackson possibly eclipse 1,000 yards this season? Let's not get crazy, it was only week one but I did not expect a win, let alone a 38-10 blowout against a playoff team.

QB issues and articles to come later in the week I am sure. Sadly, since being the Eagles first draft choice in 2007, Kevin Kolb has had chances in the preseason and sporadically when it counts and hasn't shown anything to really hang your hat on.

Bring on Michael Vick in week 3 I guess, or Jeff Garcia, but whatever happens mark September 13th on your calendar for being a wonderful Philadelphia sports day.

Phillies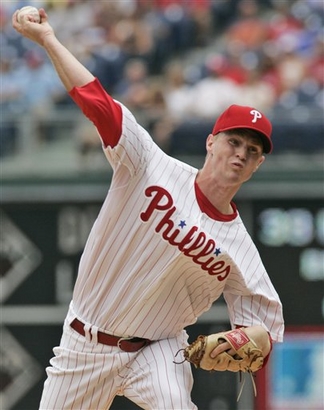 First, Kyle Kendrick bounces back and looks like the Kendrick of 2007 that went 10-4...blanking the Mets in the first 7 innings and giving up 2 runs, 1 walk, and 7 hits in 7.1 innings of work.

I will skip past all of the late game theatrics with Brad Lidge, I've covered that issue enough over the last two weeks, and just say that he recorded his 29th save.

Kendricks performance and Jamie Moyer's start the other day provide more evidence that Pedro Martinez could be used as a closer.


Then!!! Pedro goes out a turns back the clock for the whole country to see as the game was aired on ESPN...tell me this guy doesn't perform well in the limelight.

8 innings, 2 walks, 6 hits, 7 strikeouts, and 0 runs...now 5-0 with the Phillies 2.87 ERA and 1.09 WHIP.

Ryan Madson gave a much less dramatic performance in the night for his 8th save.

Another nice pick up for the GM Ruben Amaro and the Phillies front office was outfielder Ben Francisco who has provided some right handed production since arriving with Cliff Lee. The 28 year old went 2-4 with a stolen base and a home run in the day game. He has 14 sb's and 14 hr's on the season (He has a long way to go but could he be the future Jayson Werth or Shane Victorino... anyone???).

Side note: In case you haven't seen or heard of the sitcom "It's Always Sunny in Philadelphia," which airs on FX, might I suggest looking it up on hulu.com.