June 19, 2008 4:00 PM
Maybe Jason Whitlock got it right the first time. Maybe international players aren't tough enough to cut it in the NBA. After playing just one season with the Memphis Grizzlies, Juan Carlos Navarro is giving up on the NBA and heading back to Europe to play for FC Barcelona. Navarro did not have a bad season. In fact, he was named the NBA's All-Rookie 2nd team. He averaged over 10.9 points, 2.6 rebounds, and 2.2 assists while playing in all 82 games. His 156 made 3-pointers was just two shy of the rookie record.




There are probably four big reasons why Navarro would go back to Spain.
1. It's his home and he is more comfortable there. He had to learn to speak English and am not sure how well he was able to adjust to that.
2. Wanting to be a big fish in a small pond. He was the MVP of the Euroleague in 2006 and won the Spanish Cup 3 times over the course of eight years. For some reason I don't think Memphis is going to have that same success.
3. The loss of his good and soft cuddly buddy (soft on and off the court as evidence of the NBA Finals) Pau Gasol.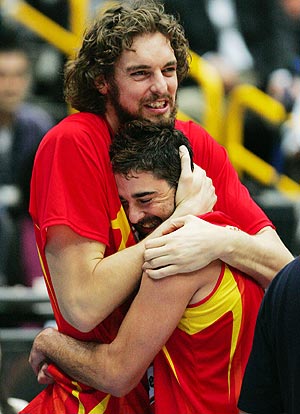 4. But probably the biggest reason? Money. Navarro earned just over half a million dollars this past season, but just signed a 5-year $25 million with FC Barcelona. That's pretty tough to pass up.
If you're going to miss Juan Carlos, you'll have your last chance to watch him for awhile as he plays for Team Spain in the Olympics this summer.