June 26, 2008 10:00 PM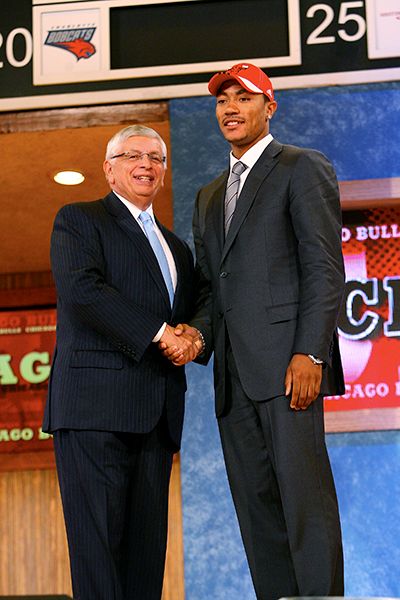 I have never heard good things from anyone who has attended any Draft. From the NHL, to the NFL, to the NBA, to even the MLS. All of them are apparently very boring in person. But, what's worse is if you wait in line for four-plus hours and DON'T get in. AOL Fanhouse reports that that is exactly what happened and hopes the NBA moves to a bigger venue in the near future.
Heat Make Right Pick
After all the talk about the Heat trading their pick or the unthinkable of not drafting Michael Beasley, the Heat made the right choice. Maybe they took my advice. Or maybe they just realized Beasley is going to be an absolute star and they couldn't possibly pass on him. But, when Stuart Scott interviewed Pat Riley, the rumors that he had issues with Beasley and his maturity seemed to be confirmed:
"In the end...the people I listen to about personnel more than anyone else, got me in a room and made sure Mr. Beasley was going to be part of the Miami Heat...He's a young player and we hope that he matures real quickly and we feel like we have the infrastructure and the organization down here to help him do that."
Anyone picture these people pulling an intervention on Riley? It's like they twisted his arm to take the most talented player in the Draft.
Everyone Wants A Point Guard
It seems like with the success of Chris Paul and Deron Williams, all of these teams are looking for a point guard to lead their team. How many times did Stephen A. Smith have to ask if these guards could play the point?
-OJ Mayo
-Russell Westbrook
-Eric Gordon
-DJ Augustin (on playing point for Larry Brown)
-Jerry Bayless
What was Kevin Durant doing at the Draft? Not that I have anything against it, but he was the only current NBA player pictured at the Draft. Is it like Miss America where the former Rookie of the Year has to preside over the next one to win the award?

Kevin Love drafted by the Grizzlies
How can it not remind you of the last time the Grizzlies drafted a big white American Center? You know who I'm talking about.
The Knicks Don't Disappoint
I LOVED that the Knicks picked Danilo Gallinari with the 6th pick. No, I don't think he'll help the team (at least not for a few years) but the Knicks picking a foreign player no one knows was sure to illicit the most boos on the night. The second most boos was when Stuart Scott mentioned Isiah Thomas in reference to his playing days in Detroit. Mike D'Antoni played with Gallinari's father in Europe and when he was asked about the pick he said, "His father's in trouble if his kid can't play." Hey Mike? You're in trouble if the kid can't play. You're not in Phoenix anymore.
There Goes My Steal Of The Draft
Before the Draft I was telling people I thought Eric Gordon could be the steal of the Draft. When I watched him play at Indiana I saw a certain intensity that not all players have. He's extremely quick and athletic and can score from anywhere on the floor. But, then...well, then the Clippers drafted him. I hope Gordon can come to terms with playing .400 basketball until his rookie contract expires.

How Happy Is Joe Alexander To Go To Milwaukee Now?
Alexander was set to cash in on going to Milwaukee with his ability to speak Mandarin and joining Yi Jianlian, but then Yi was traded to the Nets. Now Alexander is going to Milwaukee without the chance at Chinese endorsements.
Brook Lopez Needs To Relax
There were shots of Lopez looking really disappointed when he didn't go early in the Draft. He went 10th overall, he was still a lottery pick. It's not like he had to wait as long as Darrell Arthur.
Darrell Arthur Blames Doctors For Millions Of Dollars
Arthur was in the green room and was projected as a lottery pick, but fell all the way to 27th. ESPN reported that the reason he fell so far was because of possible kidney problems. Arthur said the NBA teams must not have received the blood test he'd taken in Washington. If this is true, those people that didn't send that test might have cost him millions of dollars. Something's not right here.

Best Quote From A Coach
Suns coach Terry Porter was asked what Robin Lopez would bring to the team and he responded, "Robin's gonna bring somebody who can defend on the defensive end." If you want someone who can defend on the offensive end I'm available. I'll assure you my guy will not score while we're on offense. I'm a lockdown offensive defender.
The Van Gundy Bros Are Funny
When the Sonics selected Serge Ibaka the graphic on ESPN said he must improve "Experience". Jeff Van Gundy quipped, "How do you improve your experience?" That sent the talent into a laughing fit.
Later it was Stan Van Gundy's turn. His brother had earlier made a joke about Stan's weight, so when Stan came on camera and was asked about his pick he said, "I didn't go in the war room...because I wanted to stay in the room where the food was so I didn't have any idea who we were picking."

Hey ESPN, Put Your Beeper On Silent!
If you watched the Draft you probably know what I'm talking about. After a pick, a beeping noise would go off and a graphic would fly on announcing who has the next pick. The noise was distracting and completely unnecessary. They have the side bar graphic that displays the order.

Stephen A. Smith
Stephen was relegated to player interview this year and it did not suit him. I might be one of the few people that actually slightly likes Stephen A. Smith and his personality is too big for him to be lobbing up cookie-cutter questions to NBA Draft picks. I want to hear him slam the Knicks for picking Danilo Gallinari. He might be a little over the top, but I don't mind that, especially for a 4-hour event like the NBA Draft.

Name Who Stephen A. Is Interviewing
STEPHEN: What are you going to bring to the team?
-????: I'm just hoping to make this team better. I'm gonna bring an intensity and you know just do whatever the coaches want me to do. I'm just really happy to be there and looking forward to helping the team.
If your answer was every single person he interviewed you'd be right. They all said the exact same thing. Those interviews are as useless as Danilo Gallinari will be to the Knicks next year.
Favorite to Win Rookie Of The Year?
Greg Oden. He didn't play last year thus is eligible this upcoming year.