June 17, 2008 8:00 AM
So begins our weekly Tuesday Top 10. In honor of Father's Day, we went with Top 10 father/child athletes. Yes, father/son sounds better, but we couldn't leave out Muhammad and Laila Ali.
10
Ken Norton Sr./Ken Norton Jr.
Ken Norton Sr. has been involved in some of the best fights of all-time. He started boxing in the Marine Corps and turned pro in 1967. In 1973 he fought Muhammad Ali and broke Ali's jaw. Norton won the fight on a split-decision. It was just the second loss of Ali's career. In 1976 he fought Ali for a third time (each having won once on split-decisions). The fight was even going into the final round, but Ali was more aggressive and the win gave Ali the championship.
Ken Norton Jr. was an All-American linebacker at UCLA in 1987. He was drafted by the Cowboys in 1988 and became the first player to win three consecutive Super Bowls (1992-94).
INTERESTING FACT:
Ken Norton Sr. ran track in high school and competed and won in eight events. The state of Illinois now has the "Ken Norton Rule" where track athletes can only compete in three events. Ken Norton Jr. is now the LB coach for USC.
9
Rick Barry/Brent Barry
Rick Barry is 2nd only to Mark Price in career free throw percentage in the NBA. He won Rookie of the Year in 1966 averaging 25.7 points and 10.6 rebounds for the San Francisco Warriors. The following year he led the NBA in scoring at 35.6 points per game. In the 1967 Finals he averaged 40.8 points per game, but the Warriors lost to the 76ers. Barry went on to win the Championship in 1975 and was named Finals MVP.
Brent Barry was nowhere near the basketball player his father was. But he has a couple accomplishments Rick can't match. Brent Barry has won two NBA Championships with the Spurs (2005 and 2007) as compared to Rick's one. Brent Barry also won the Slam Dunk competition in 1996. Barry has been a solid shooter over his entire career, averaging over 40% from three-point range.
INTERESTING FACT
– Rick and Brent are the second father/son duo to win NBA Championships (Matt Guokas St. and Matt Guokas Jr. were the first).
8
Felipe Alou/Moises Alou
Felipe Alou played in the majors for 17 seasons from 1958-1974 for seven different teams. He was a career .286 hitter and led the league in hits and runs scored in 1966. He was a 3-time All-Star and 3-time team MVP. He was always a very good player, but never elite.
Moises Alou is much the same way. He has always been really good. Better than his father, but never broke into that elite level. He has a career batting average of .303, has been a 6-time All-Star and 7-time team MVP.
INTERESTING FACT
– Moises played under his father on the Expos and the Giants.
7
Calvin Hill/Grant Hill
Calvin Hill played in the NFL from 1969-1981. He was named to the Pro Bowl four times. In 1972 he became the first Cowboy ever to rush for over 1,000 yards in a season.
Grant Hill led Duke to two Consecutive NCAA Championships (91-92). Hill became the first rookie to receive the most votes for the All-Star game. Through six seasons in the NBA, Hill had racked up amazing numbers. Hill joined Oscar Robertson and Larry Bird as the only players to score over 9,000 points, get over 3,000 rebounds, and 2,500 assists in their first six years. But, ankle injuries derailed his stellar career. He would never reach the same production he had at the beginning of his career. But, despite the injuries he has averaged 19.3 points, 5 assists, and 6.8 rebounds over the course of his career.
INTERESTING FACT
– While Grant Hill went to the very distinguished Duke, Calvin attended an Ivy League school, Yale.
6
Muhammad Ali/Laila Ali
Many would call Muhammad Ali the greatest boxer of all-time. Ali won a Gold medal at the 1960 Olympics in the Light Heavyweight division. He won his first title fight over heavily-favored Sonny Liston in 1964. Ali's most famous fights are simply known by their names, like 'The Fight Of the Century' where Joe Frazier knocked Ali out in the 15th round, or 'The Rumble In The Jungle' in which Ali upset George Foreman in Zaire, or the "Thrilla in Manila' where Frazier's trainer refused to let him go out for the 15th round because his eye was so swollen. Ali was also a social icon, embracing the Nation of Islam and taking a stand against the Vietnam War.
While it's debatable whether Muhammad Ali is the best male boxer of all-time, there is little question Laila Ali is the greatest female boxer of all-time. She holds a record of 24-0 with 21 KO's in her nine-year career.
INTERESTING FACT
- Laila Ali squared off against Joe Frazier's daughter, Jackie Frazier-Lyde in 2001.
5
Dale Earnhardt/Dale Earnhardt Jr.
Dale Earnhardt has been and still is the face of NASCAR. He won 76 races and his seven Championships are tied for the most with Richard Petty. Earnhardt was killed while competing in the 2001 Daytona 500. His death sparked reforms in car safety.
While his father won 76 races, Dale Jr. just snapped a 76-race winless drought by winning at Michigan International Speedway on Sunday. Jr.'s 18 career wins are impressive, but more impressive is his bank account. Dale Earnhardt Jr. raked in over $27 million in 2007. $7 million came from winnings and $20 million came in endorsements. The Earnhardt brand name is by far the most lucrative in NASCAR history.
INTERESTING FACT
- Dale Earnhardt raced against two of his sons, Dale Jr., and Kerry in the Pepsi 400 at Michigan International Speedway where Jr. just broke his winless drought.
4
Ken Griffey/Ken Griffey Jr.
One of the most amazing things about Ken Griffey Sr. was his longevity. He played for 19 seasons from 1973-1991. He didn't have the power his son would have (just 152 career HR) but he did bat .296 for his career.
Ken Griffey Jr made an immediate impact as a teenager. He won the Rookie of the Year in 1990 at just 19-years old. He's one of just six players to have hit over 600 homers. His swing is one of the most graceful things to watch in all of sports. Many thought Griffey would be the one to break Hank Aaron's all-time home run record. But, injuries made this impossible for Jr. From 2002-2004 Griffey missed 260 games and ended each season injured. Despite these setbacks, Griffey has still averaged 40 home runs and 115 RBI's per season.
INTERESTING FACT
– The Griffey's hit back-to-back homers on September 14th, 1990 with the Seattle Mariners.
3
Bobby Hull/Brent Hull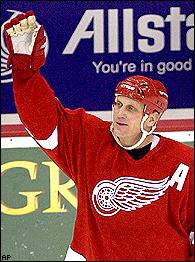 Bobby Hull played in the NHL for 17 seasons and he retired as 2nd in goals scored and 9th in points scored. In 1966 he became the first NHL player to score over 50 goals in a season. He would have five 50-goal seasons, which was more than all others combined at the time.
Brett Hull was born to play hockey. Unlike his other four siblings who were all born in Chicago, Brett was born in Canada. Brett Hull would play in the NHL from 1985-2006 and ranks 3rd all-time with 741 goals scored. He led the NHL in goals three straight seasons (1990-1992). He was also deadly in the playoffs and his 24 playoff winning goals is the most all-time.
INTERESTING FACT
– They are the only father/son combo to have their numbers retired.
2
Archie Manning/Peyton Manning
Archie Manning was an amazing college quarterback at Mississippi. He finished fourth in Heisman voting in 1969 and third in 1970. Archie played in the first national prime-time broadcast college football game and threw for over 400 yards and 3 touchdowns and also ran for over 100 yards. But, despite this performance, Ole Miss fell to Alabama 33-32. Archie was selected by the Saints with the 2nd overall pick in the 1971 NFL draft. The Saints were and would remain one of the worst teams in the league. Despite the lack of talent, Manning led the league in passing yards and completions in 1972. In 10 years with the Saints, they never once had a winning record.
Peyton Manning did not follow in his father's footsteps and chose to go to the University of Tennessee. Manning holds the Tennessee records for most passing yards, touchdowns, and wins as a starter. Peyton was selected by the Indianapolis Colts with the first overall selection in the 1998 NFL draft. He started from the very beginning and in fact has not missed a start since. Peyton has been selected to the Pro Bowl eight times, has led the league in touchdowns three seasons and held the highest passer rating three straight seasons (2004-2006). He was the Super Bowl MVP in 2006 and with many years in front of him he already ranks fourth on the list for most passing touchdowns.
INTERESTING FACT
- Archie led the league in sacks his rookie season (40) and Peyton led the league in interceptions his rookie season (28).
1
Bobby Bonds/Barry Bonds
Bobby Bonds had a rare combo of power and speed. He was the first person to join the 30/30 club and would do it five times in his career. But, Bonds also had a propensity for striking out. He set the record for most strikeouts in a season in 1969 and broke his own record the following year.
Although steroid allegations have tainted his legacy, just going by Barry Bonds' numbers he is the best of all time. He is the all-time leader in walks and home runs, fourth in RBI's, and 3rd in runs scored. He has won a record seven NL MVP's including four straight from 2001-2004.
INTERESTING FACT
- Barry Bonds is the only player to match his father's record of five seasons with 30 or more home runs and stolen bases.