July 23, 2008 6:00 PM
Would you take $25K to be hated by the entire population of the United States' third most popular city? I think most people would. Sure, you get the occasional death threat, but maybe that's already happening you anyways.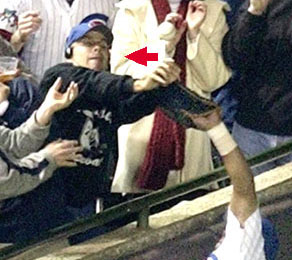 Steve Bartman doesn't even have to make that decision. Bartman, the fan that interfered with a foul ball in Game 6 of the 2003 NLCS, is already hated by the entire city of Chicago. Now, he is being offered $25,000 for a single autograph. According to the
Orlando Sentinel
all Bartman has to do is,

Show up at the Donald E. Stephens Convention Center in Rosemont, Ill., at 1 p.m. on July 31, prove his identity and sign a photograph of the infamous play. It will then be auctioned on the Web site with the proceeds going to a Chicago-based charity, according to a news release for the event.
No one - not Jordan, not Ali, not Jesus - has gotten $25K for a single autograph.

So, Bartman gets his money, and in the process, helps a Chicago-based charity. Sounds like a win-win. BUT, Bartman is already the scapegoat for the Cubs woes.

The Cubs currently have the best record in the National League, but are just a game up on the Brewers and two on the Cardinals. Imagine if he comes out of hiding and the Cubs enter into a downward spiral and miss the playoffs when many think this is their year. Stay a social recluse Bartman, or you have the possibility of going down as the biggest goat in the history of sports.
H/T: Deadspin